Chocolate Chip &
Hazelnut Cookies
Prep 20 minutes. Cooking 25 minutes
Makes 20 cookies
125g Gluten free, Plain flour*
25g Rice flour*
70g Ground almonds
50g Golden caster sugar
70g Chilled vegan butter
55g Chopped dairy free dark chocolate
55g Chopped roasted hazelnuts
50g Rice syrup
40 ml Water
*Our preference is Doves farm flours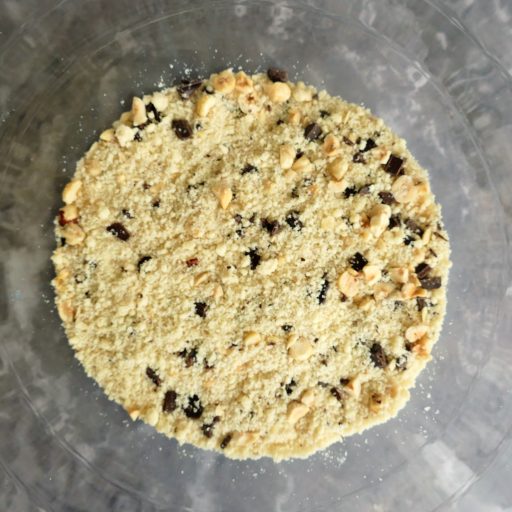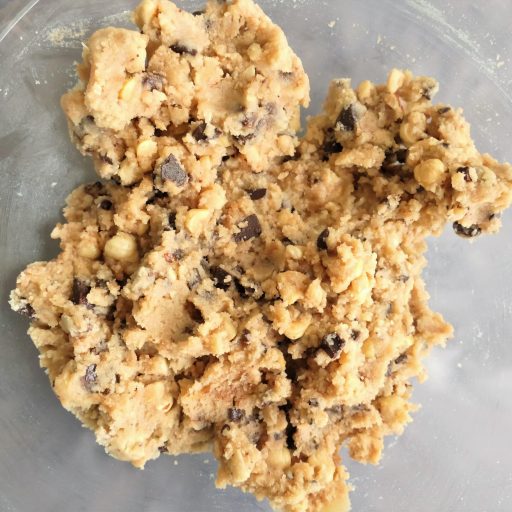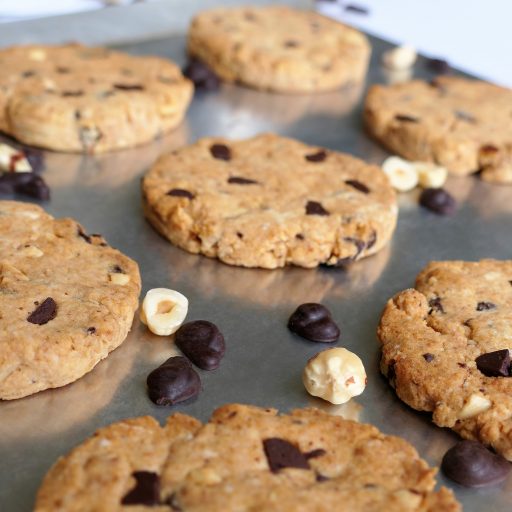 Method
Preheat the oven to 150°c/300°F/Gas Mark 2
Rub the rice flour and the gluten free flour with the fat cut into small pieces with your fingertips until you have a crumb consistency (see image 1). Add the sugar and ground almond and stir gently to mix.
Add chopped roasted hazelnuts and chocolate and stir to evenly distribute.
Add water and rice syrup together, mix well and then add it to the cookie dough, stir gently with a spoon and do not over mix. Gently bring mixture together (image 2).
Using a teaspoon take a large-heaped spoonful of the mixture (approx 25g) and roll gently in to a ball. Gently flatten onto a lined baking sheet (image 3). For neat and round cookies use a large circle cookie cutter (larger than the cookie). Place over the dough and use in a circular motion pushing around the edges, this will help round out the cookie.
Pop in the oven for approx. 20-25 minutes until golden brown. Leave for five minutes before cooling on a wire rack. Store in an airtight tin.
This is the very first recipe that was developed for Against the Grain 20 years ago. It became our best selling biscuit.
Hope you enjoy !