Cranberry & Orange
Spiced Oat Cookies
Prep time 15 mins. Baking time 15 mins
Aprox 15 cookies
100g Dried unsweetened Cranberries
150g Gluten free Oat flakes milled or oat flour
90g Date Sugar
120ml Mild Olive oil
3 tbsp Milled flaxseed and 6 tbsps water
2tbs Pomegranate Molasses
1tsp Cinnamon
1tsp Cardamom
0.5tsp Nutmeg
1tsp Gluten Free baking powder
Zest of 1 Orange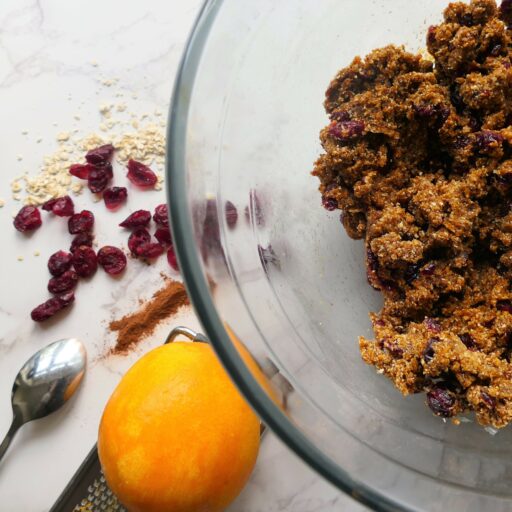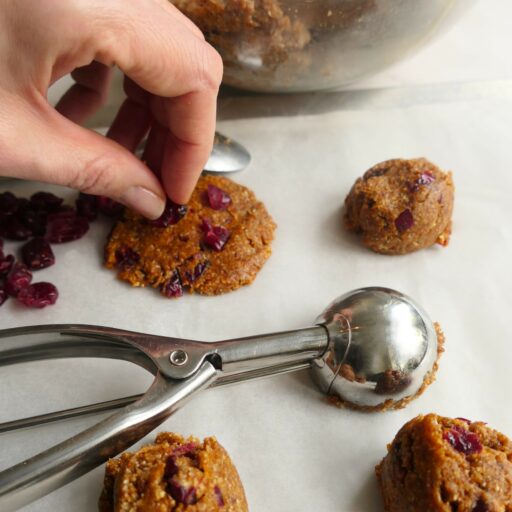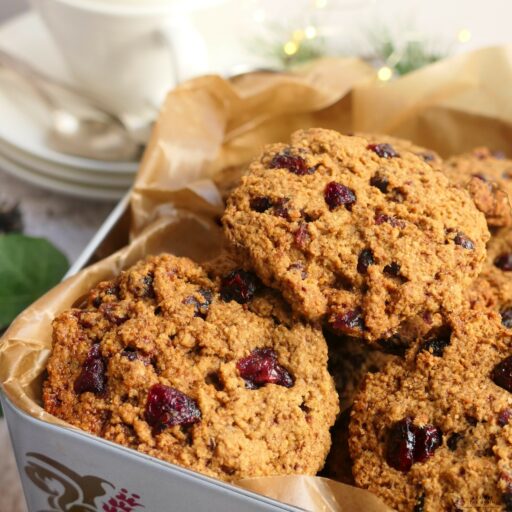 Method
Preheat the oven to 150°c/300°F/Gas Mark 2
In a small bowl add water to flaxseeds, stir well and set aside for at least 10 minutes.
In a mixing bowl add the oil, date sugar, spices, pomegranate molasses, flaxseed paste and orange zest. Mix well using a mixer/hand mixer.
Next chop 90g of the cranberries holding approx.10g back and add to the mix together with the baking powder and oat flour. You can make oat flour in a blender/food processor using rolled oats/oat flakes.
Using the hand mixer/mixer on a medium setting, mix until all of the ingredients are well combined.
Using a small scoop or table spoon, drop the cookie batter onto a lined baking tray. Using the back of a spoon flatten out the dough and the remaining cranberries can be added to the top of the cookies where needed.
Bake in the oven for approx 15-20 mins. Leave on the baking tray for at least 5 minutes before transferring to a cooling rack as they can easily break when hot.
Once cool store in an airtight tin, can be kept for a couple of days.
A moist, chewy cookie with tangy cranberries and zingy orange zest. Warmed with spices and sweetened with date sugar, making this a truly tasty and healthier treat for the festive season.