Prep 20 min. Cooking 45 min.
Serves 4 as a starter
For best results use tomatoes when in season
1.5kg Tomatoes
2 large onions
4 tablespoons of olive oil
2 tbs Chicory root syrup*
2tsp Stevia **
1.5 tsp Apple cider vinegar
3tbs tomato puree
Sea salt
(*can be substituted with Agave Syrup, omitt stevia )
**Our preference is Natvia Stevia Sweetener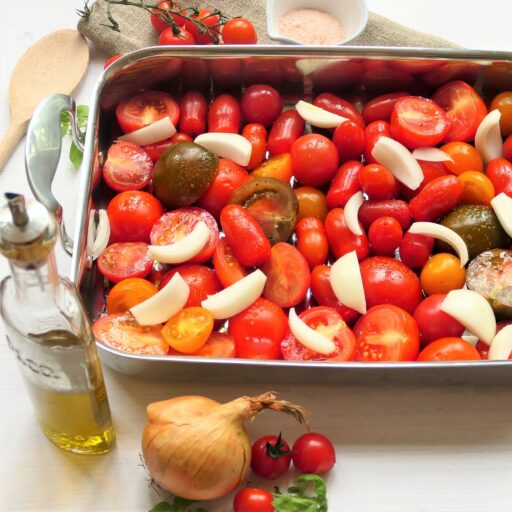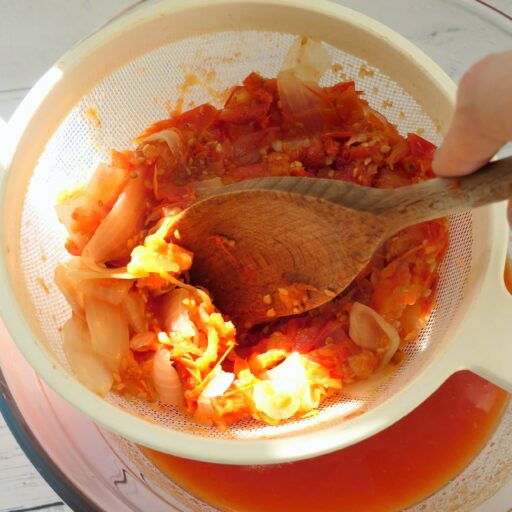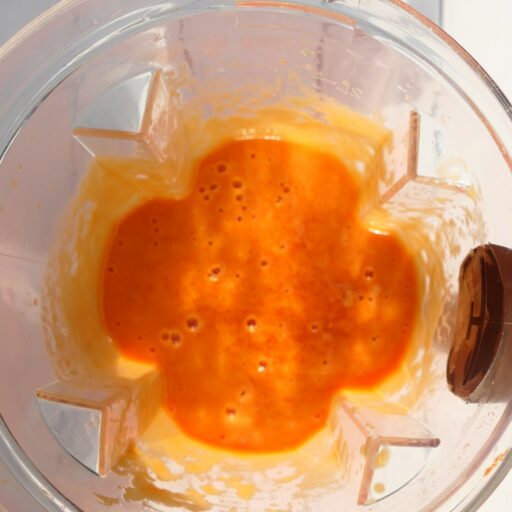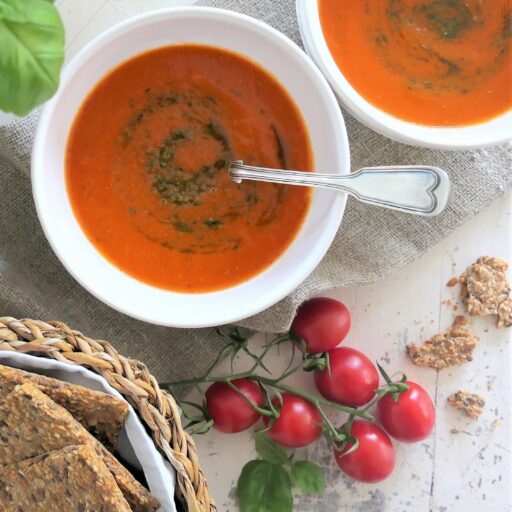 Method
Preheat the Oven to 200 fan /425°F/Gas Mark 7.
Prepare Tomatoes, wash, halve and or quarter depending on size. Cherry tomatoes can be left whole.
Using one of the onions, peel and cut into large segments.
In a large roasting dish coat the onion together with the tomatoes in 2 of the tablespoons of olive oil and 2tsp of sea salt.
Roast in the oven for 45 minutes.
Meanwhile finely dice the other onion and add to a frying pan with the other 2tbs of olive oil. Gently fry on low heat until the onion is soft and transparent. Set aside.
After 45 mins remove the roasted tomatoes and onion from the oven and using a potato masher /fork, mash all the tomatoes and onion to release juices.
You can now leave to cool and heat later or if using immediately take care of very hot liquid.
Pour the roasted tomatoes, onions, and the liquid into a sieve over a bowl.Using a large wooden spoon mash the tomatoes and onions as push as much as possible through the sieve,scrape the underneath of sieve as you go to include all of the thicker juices.
Pour the liquid into a blender and add the finely diced cooked onion (the onion will act as a thickener).
Add the Tomato puree, agave syrup, apple cider vinegar and blend for 1 minute. Season to taste.
Serve directly or transfer soup into a saucepan to reheat later. Tastes even better the next day, keep refrigerated.
Serve with a big swirl of dairy free pesto (recipe will no longer be nut free), olive oil, or plant-based pouring cream.
A delicious healthy tomato soup.
Developed with that favourite tinned classic in mind.